Theodore Roosevelt
Republican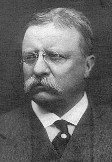 Library of Congress
| Date | Party | Office | Votes | Result |
| --- | --- | --- | --- | --- |
| 09-14-1901 | Republican | President | 0 | Win |
| 11-08-1904 | Republican | President | 205226 | Win |
| 11-05-1912 | Progressive (Bull Moose) | President | 283610 | Win |
Candidate Biography:
Born: October 27, 1858 in New York, New York
Married: Alice Hathaway Lee (1880-1884), Edith Kermit Carow (1886-1919)
Child: Alice, Theodore Jr., Kermit, Ethel Carow, Archibald Bulloch, and Quentin
Cousin of Franklin D. Roosevelt
Military Service: ARMY (Spanish-American War)
Died: January 6, 1919 in Oyster Bay, New York
1881-1884: Assemblyman, New York State Legislature
1884: Delegate, Republican National Convention
1886: Candidate for Mayor of New York (Lost)
1889-1895: Member, United States Civil Service Commission
1895-1897: President, New York City Board of Police Commissioner
1897-1898: Assistant Secretary, US Department of Navy
1898-1901: Governor of New York
1901: Vice President of the United States
1901: Became President following the assassination of President McKinley
1901-1909: President of the United States
AWARD: Medal of Honor (2001)
AWARD: Nobel Peace Prize (1906)
NOTABLE HISTORY: Theodore Roosevelt was America's youngest President.
NOTABLE HISTORY: In the Presidential election of 1912, Roosevelt was the most successful third-party candidate in US history, winning 27.5% of the popular vote and 88 electoral votes (including California).
NOTABLE HISTORY: Roosevelt was the first sitting President to make an official trip outside the United States (he visited Panama).
PLACENAME: There are Elementary Schools named for Roosevelt in Anaheim, Paramount, Selma, Burbank, Santa Ana, and Indio. There is also a Middle School in Glendale and a High School in Los Angeles named for the former President.
US Currency: Theodore Roosevelt appeared on a "Presidential $1 Coin" that was issued in 2013. Roosevelt appeared as part of Mount Rushmore on the "50 State Quarters" quarter for South Dakota.
Roosevelt and his son Theodore Jr. (who won the award in WWII) are one of only two sets of fathers and sons to have received the Medal. The other pair were awarded to Douglas MacArthur and his father Arthur MacArthur.