William M. Gwin
Democratic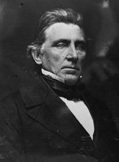 Library of Congress
Candidate Biography:
William McKendree Gwin
Born: October 9, 1805 near Gallatin, Tennessee
Married.
Children: William M. Gwin Jr.
Military Service: Confederate Army (Civil War)
Died: September 3, 1885 in New York, New York
1833: U.S. Marshal of Mississippi
1841-1843: Member, United States House of Representatives [Mississippi]
1849: Delegate, First California Constitutional Convention (representing San Francisco)
1855: Candidate for U.S. Senator (Lost)*
1863: "Traveled to France in 1863 in an attempt to interest Napoleon III in a project to settle American slave-owners in Mexico"
In 1849, Gwin was the major proponent of making California either entirely or partially a slave state. Another delegate, Francis J. Lippett, forced Gwin to choose between becoming US Senator or making California a slave state and Gwin chose to become a Senator. He later punished Lippett by replacing him with John McDougall on the ballot for Lt. Governor, costing him a future elected office.
Although Gwin didn't win the 1855 US Senate race, neither did his opponent, David C. Broderick, and the seat remained vacant for two years.

LEGAL TROUBLES: On November 15, 1861, Gwin was arrested with Calhoun Benham and J. L. Brent by U. S. Army Brig. General E. V. Sumner for "disloyal utterances" against the United States.
Source: California's Stately Hall of Fame by Rockwell D. Hunt (1950)
Source: History of Political Conventions in California, 1849-1892 by Winfield J. Davis (1893)
Source: Governmental Roster, 1889. State and County Governments of California by W. C. Hendricks
Source: "Biographical Directory of the United States Congress, 1774-Present" (U.S. Library of Congress) [http://bioguide.congress.gov/]