George Hearst
Democratic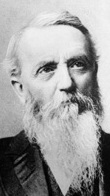 Library of Congress
Candidate Biography:
Born: September 3, 1820 near Sullivan, Missouri
Married: Phoebe Apperson Hearst* (in 1862)
Child: William Randolph Hearst (a member of Congress 1903-1907, major American newspaper publisher, who built Hearst Castle in San Simeon)
Died: February 28, 1891 in Washington, DC
1866: Owner, San Francisco Examiner
NOTABLE NO VOTE (Slavery): Hearst was one of 11 Assemblymembers (and 15 Legislators overall) who voted against SJR 1 (1865), adopting the Thirteenth Amendment to the U.S. Constitution, which officially ended slavery in the United States.
FAMILY: George Hearst was the great-grandfather of Patty Hearst, who was famously kidnapped by the Symbionese Liberation Army in the 1970s and who participated in the robbery of a Crocker National Bank in Carmichael. Interestingly, Hearst and Crocker served in the Assembly only five years apart.
The Hearst Family was inducted into the California Museum Hall of Fame in 2006.
PLACENAME: Hearst Elementary is located in San Diego. The George Hearst Mining Building is located at the UC Berkeley campus. A plaque inside the building reads; "THIS BUILDING STANDS AS MEMORIAL TO GEORGE HEARST - A PLAIN HONEST MAN AND GOOD MINER". Phoebe Hearst, widow of Senator Hearst, was a co-founder of the national Parent-Teacher Association, and served on the UC Board of Regents (1897-1917). Finally, she funded the search for an architect to design and develop the UC Berkeley campus. For her contributions, several locations at UC Berkeley are named for Phoebe; the Phoebe Apperson Hearst Gymnasium for Women, the Phoebe Apperson Hearst Hall, and Phoebe Apperson Hearst Hall Swimming Pool.
Source: History of Political Conventions in California, 1849-1892 by Winfield J. Davis (1893)
Source: The Centennial of The University of California, 1868-1968
Source: "Biographical Directory of the United States Congress, 1774-Present" (U.S. Library of Congress) [http://bioguide.congress.gov/]