Stephen A. Douglas
Douglas Democratic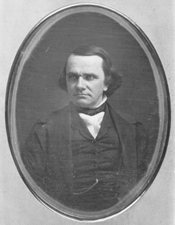 Library of Congress
| Date | Party | Office | Votes | Result |
| --- | --- | --- | --- | --- |
| 11-06-1860 | Douglas Democratic | President | 38023 | Loss |
Candidate Biography:
Stephen Arnold Douglas
Born: April 23, 1813 in Brandon, Vermont
Married: Martha Martin, Adele Cutts
Died: June 3, 1861 in Chicago, Illinois
1835: State's Attorney for the Morgan Circuit [Illinois]
1836-1837: Representative, Illinois State Legislature
1837: Register of the Land Office at Springfield
1838: Candidate for Congress [Illinois] (Lost)
1840-1841: Secretary of State [Illinois]
1843-1847: Member, United States House of Representatives [Illinois]
1847-1861: Member, United States Senate [Illinois]
1852: Primary Candidate for President (Lost)
1856: Primary Candidate for President (Lost)
STATEHOOD: As a U.S. Senator, Douglas introduced a bill (S. 169) in 1850, titled "An Act for the Admission of California into the Union", which made California the 31st State.
PLACENAME: Douglas City (in Trinity County) is named for Stephen Douglas.
Source: "Biographical Directory of the United States Congress, 1774-Present" (U.S. Library of Congress) [http://bioguide.congress.gov/]