John F. Kennedy
Democratic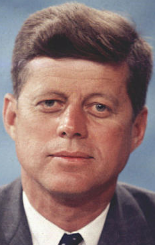 Library of Congress
| Date | Party | Office | Votes | Result |
| --- | --- | --- | --- | --- |
| 11-08-1960 | Democratic | President | 3224099 | Loss |
Candidate Biography:
Born: May 29, 1917 in Brookline, Massachusetts
Married: Jacqueline Lee Bouvier
Children: Caroline, John Jr., Patrick
Family: Brother of Robert Kennedy (US Attorney General, 1961-1964; US Senator, 1965-1968) and Edward Kennedy (US Senator, 1962-2009)
Military Service: USN (WWII)
Died: November 22, 1963 in Dallas, Texas
1947-1953: Member, United States House of Representatives [Massachusetts]
1953-1960: Member, United States Senate [Massachusetts]
1961-1963: President of the United States
AWARD: Presidential Medal of Freedom (1963)
PLACENAME: California is home to the John F. Kennedy Memorial Library (Los Angeles). Additionally, four city parks are named for John F. Kennedy (Hayward, El Cajon, San Diego, and Napa).
PLACENAME: California is home to 18 schools named for President Kennedy; eight Elementary Schools (in Artesia, Daly City, Dinuba, Indio, Newark, Riverside, Santa Ana, and Stockton), four Middle Schools (in Cupertino, El Centro, Hanford, and Redwood City), and six High Schools (in Fremont, Granada Hills, La Palma, Norco, Richmond, and Sacramento). Additionally, there are three Elementary Schools named for Robert F. Kennedy in Compton, Los Angeles, and San Jose.
The Warren Commission, charged with investigating the assassination of President Kennedy, was named after Chief Justice Earl Warren, who chaired it.
US Currency: John F. Kennedy appeared on a "Presidential $1 Coin" that was issued in 2015. Kennedy also currently appears on the half dollar coin (1964-Present).