Nathan Gilmore
Democratic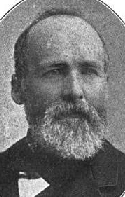 Google Books
| Date | Party | Office | Votes | Result |
| --- | --- | --- | --- | --- |
| 09-02-1873 | Democratic | AD-15 | 0 | Win |
Candidate Biography:
Born: December 26, 1830 in Eaton, Ohio
Married: Amanda Gray (m. 1853)
Children: Minnie, Elvira, Susan Margaret (married to George W. Pierce), Ida, Evelyn, and Nathan Gray
Died: April 10, 1898 in Placerville, CA
1863: Discoverer and Founder, Glen Alpine Springs (near Lake Tahoe)
Later: County Treasurer, El Dorado County
Later: County Assessor and Tax Collector, El Dorado County
Be Fruitful and Multiply: Gilmore had six children.
In 1873, Gilmore listed his occupation as "breeder of Angora goats"
PLACENAME: Gilmore Lake in El Dorado County is named for Nathan Gilmore. The nearby Angora Peak, Angora Lakes (two of them), and Angora Creek were named for the goats that Gilmore raised nearby.
Source: California Legislative Directory, 1873-4 by John F. Uhlhorn (Sacramento; H.S. Crocker & Co., 1873)
Source: History of the House of Ochiltree (1124-1916) by Clementine Railey (Bulletin Printing Co., 1916)