Jefferson Hunt
Whig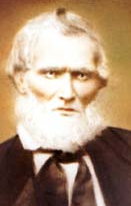 Photo: rootsweb.ancestry.com
Candidate Biography:
Charles Jefferson Hunt
Born: January 20, 1803 in Bracken County, Kentucky
Married: Celia Mounts (m. 1823), Matilda Nease (m. 1846)
Children: Gilbert, Nancy Ann, Marshal, Jane, John, Harriet, Joseph, Jefferson, Hyrum, Parley & Mary (twins), Sophronia Elizabeth, Julia Ellen, Olive Isabelle, Thomas Jefferson, James Franklin, Liberty Independence, Peter, Matilda, Jane & Janette (twins)
Military Service: Nauvoo Legion (1838 Mormon War), Mormon Battalion (Mexican-American War), California State Militia
Died: May 11, 1879 in Red Rock (now Oxford), Idaho
1844: Bodyguard, Mormon Prophet Joseph Smith
1849-1850: Commander, Fort Utah (Provo) Militia
1851: [Iron County] Representative, Utah Congress
1863-1864: Representative, Utah Territorial Legislature
LEGISLATION: Authored the bill (in 1853) that created San Bernardino County. Known as "Father of San Bernardino County".
PLACENAME: The town of Huntsville, Utah is named for Hunt, who founded it.
PLACENAME: The Jefferson Hunt Campground is located on the southeastern shore of Pineview Reservoir in the Uinta-Wasatch-Cache National Forest near Ogden, Utah.
From 1823 until 1846, Hunt was married to only Celia. After 1846, Hunt was in a plural marriage with both wives.
Be Fruitful and Multiply: Hunt had 21 children and 154 grandchildren.
Source: Biography at Wikipedia
Source: A Biographical Sketch of Jefferson Hunt by Norma L. Elliott (1958)
Source: Territory of Utah Legislative Assembly Rosters, 1851-1894 by the Utah State Archives staff (2007)