Cadet Taylor
Republican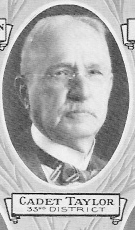 CA Blue Book
| Date | Party | Office | Votes | Result |
| --- | --- | --- | --- | --- |
| 11-04-1924 | Republican | SD-33 | 40269 | Win |
Candidate Biography:
Born: September 30, 1848 in Putnam County, Illinois
Married.
Children: Two sons (both Spanish-American War veterans) and a daughter
Previous: Chief Clerk, Government Printing Office [Washington, DC]
1890s-1900s: Collector of Customs at Omaha
Taylor tried twice to enlist as a drummer boy in the 44th Illinois Infantry during the Civil War. He was denied both times on account of his age (13 and 14 years old, respectively).
Source: California Blue Book (1928)