Charles Duncombe
Anti-Lecompton Democratic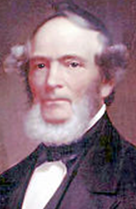 Northern Blue Publishing
| Date | Party | Office | Votes | Result |
| --- | --- | --- | --- | --- |
| 09-01-1858 | Anti-Lecompton Democratic | AD-09 | 0 | Win |
| 03-02-1859 | Anti-Lecompton Democratic | AD-09 | 0 | Win |
| 09-03-1862 | Union | AD-16 | 0 | Win |
Candidate Biography:
Born: July 28, 1792 in Connecticut
Married: Lucy Millard
Military Service: Canadian Rebel (1837 Upper Canada Rebellion, Duncombe's Rebellion)
Died: October 1, 1867 in Hicksville (north of Galt), CA
1830-1836: Member, Legislative Assembly of Upper Canada
1837-1838: Leader in the movement to create a Republic of Canada (not a filibuster)
Duncombe was the oldest member of the State Assembly in 1863 at age 70.
LEGAL TROUBLES: After leading a rebellion against the British Empire (Duncombe's Rebellion), Duncombe was sentenced to death and fled to the United States to avoid his sentence. Death Penalty
MORE LEGAL TROUBLES: At the 1858 General Election, Charles Duncombe was elected to the State Assembly and was sworn in on January 3, 1859. Duncombe served until January 22nd, when the Assembly voted 46-27 that he was ineligible to serve because he had taken an oath of allegiance to "King George III, his Heirs and Successors..." in Canada in 1818. On January 28th, Governor Weller called an election to fill the vacancy, setting the date of the election as Saturday, February 28th. The election was actually held on February 19th and Duncombe was reelected to the Assembly by a vote of 1466 votes to 1296 votes received by Warren N. Bacon.
On March 2nd the Assembly voted 40-25 to refer the bill to the Elections Committee. On March 3rd, the Assembly voted 32-31 to neither accept the election results nor deny them. The seat remained vacant for the remainder of the unexpired term.
Source: History of Political Conventions in California, 1849-1892 by Winfield J. Davis (1893)