Creed Haymond
Republican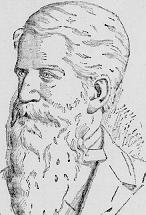 Sacramento Call (2/17/1895)
| Date | Party | Office | Votes | Result |
| --- | --- | --- | --- | --- |
| 09-07-1875 | Independent | SD-18 | 0 | Win |
| 09-04-1877 | Independent | SD-18 | 0 | Win |
Candidate Biography:
Born: April 23, 1836 in Virginia
Married: Alice Crawford (m. 1872, died 1887)
Military Service: ARMY (Pyramid Lake War of 1860)
Died: January 13, 1893 in San Francisco, CA
1860s-1893: Solicitor General, Southern Pacific Railroad
1870-1872: Code Commissioner, State of California
1880: Delegate, Republican National Convention
1880s: Member, California Code Commission
1888: Delegate, Republican National Convention
FATHER OF THE CODE: In 1871, Haymond divided all existing state law into four "Codes"; Political, Civil, Civil Procedure, and Penal.
"Creed Haymond was a man whose like we will perhaps never see again. His virtues were many; his faults were few." - Grove L. Johnson in a eulogy (See Source #4)
"His memory will not fade from the annals of the State, for his public services have made it imperishable. As a chief among those who gave to us a codified system of laws, his labor and genius will remain enshrined in that splendid work." - Sacramento Record Union, January 14, 1893, Page 2

In 1895, a marble bas-relief of Haymond was donated to the State of California for display in "some room in the Capitol building".
Source: Directory of the California Legislature. Twenty-First Session, 1875-6 by William Halley (1876)
Source: "Pen Portraits" Compiled by R.R. Parkinson, Submitted by Nancy Pratt Melton as part of the California Genealogy & History Archives
Source: "In Memory of Haymond", The Sacramento Record-Union, January 28, 1893, Page 4
Source: "Bas-Relief of Creed Haymond", The San Francisco Morning Call, February 17, 1895, Page 5