William R. Wheaton
Union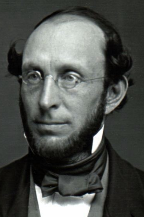 bioproj.sabr.org
Candidate Biography:
William Rufus Wheaton
Born: May 7, 1814 in New York, New York
Married: Elizabeth A. Jennings (m. 1837)
Children: Seven (including George Henry Wheaton)
Died: September 11, 1888 in Oakland, CA
1867-1868: President, Society of California Pioneers
1876-1886: Register, General Land Office of the United States
Be Fruitful and Multiply: Wheaton had seven children.
Professional Sports: In addition to helping draft the first formal set of rules for baseball (in 1845), Wheaton was the vice president of the Knickerbocker Baseball Club (1840s) and one of the sport's first umpires.

N

ot

the Wil Wheaton from Star Trek.
Source: Legislative Guide... of all the State Officers and Members of the Legislature... by Kean & Dudley (H.S. Crocker and Co.; 1871)
Source: History of Political Conventions in California, 1849-1892 by Winfield J. Davis (1893)
Source: "William Wheaton" article on Wikipedia (accessed 6/3/2012)