Henry T. Perea
Democratic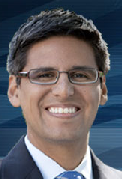 Candidate Biography:
Born: June 29, 1977 in Fresno, CA
Married: Yahaira Garcia-Perea
Child: Ava Isabella and H. Joaquin Perea
Family: Son of Henry T. Perea, Sr.*
Previous: Intern, Congressman Cal Dooley
Previous: District Representative, Congressman Cal Dooley
2002-2010: Member, Fresno City Council
2015: Resigned from the State Assembly on December 31.
2016: Policy Advisor, Pharmaceutical Research and Manufacturers of America (PhRMA)
2017-Present: Lobbyist, Western States Petroleum Association
Elected to the Fresno City Council at age 25. Age 33 when he was sworn into the Assembly.
Perea Sr. is a Fresno County Supervisor (2004-Present) and was on the Fresno City Council (1997-2003).
LEGISLATION: Perea authored 40 regular session bills that were chaptered. A majority related to health and water issues.
Source: "New lawmakers descend on the Capitol" by Torey Van Oot, Sacramento Bee (December 5, 2010)
Source: California Assembly Handbook (2015)