Mona F. Pasquil
Democratic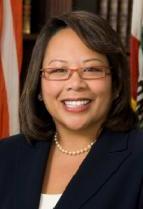 | Date | Party | Office | Votes | Result |
| --- | --- | --- | --- | --- |
| 09-04-2009 | Democratic | Lieutenant Governor | 0 | Win |
Candidate Biography:
Simeona Fortunata Pasquil
Mona Pasquil Rogers
Born: April 3, 1962 in Sacramento County, CA*
1980s: Staff, State Senator David A. Roberti
1980s: Staff, State Senator John Garamendi
1990s: Staff, California Treasurer Kathleen Brown
1996: Staff, Bill Clinton for President campaign
1997?: Staff, White House Office of Political Affairs
2000s: Political Director, Governor Gray Davis
2000: California Political Director, Al Gore for President campaign
2003-2009: Member, Democratic National Committee
2009-2010: Chief of Staff, Lieutenant Governor John Garamendi
2010: Campaign Manager, Cathleen Galgiani for Assembly campaign
2011-2019: Appointments Secretary, Governor Jerry Brown
2012: Delegate, Democratic National Convention
2016: Delegate, Democratic National Convention
2019-Present: Member, State Personnel Board
2019-Present: Senior Advisor, Governor's Office of Emergency Services
Pasquil was born in Sacramento County, although some sources indicate she was "born and raised" in Walnut Grove while others indicate that she was born in the City of Sacramento.
Pasquil was the first person to serve as acting Lieutenant Governor who was not the President pro Tem of the California State Senate. It's important to note that currently, only the Governor's office has a line of succession. California Government Code, Section 1775 states that "...after a vacancy has occurred... and prior to the time such vacancy is filled as provided in this section, the chief deputy to the above constitutional officers shall discharge the duties of the office." Previously, the Pro Tem of the State Senate would become acting Lieutenant Governor.
Source: "Galgiani campaign funds spent on trip to Israel, retreat to San Diego" by Jonah Owen Lamb, Merced Sun (10/9/2010) [link]
Source: Biogrpahy titled "Mona Pasquil, Acting Lt. Gov. CA" at national-caaba.org [link]
Source: Birth information from "California Birth Index (1905-1995)" by SFgenealogy