David A. Roberti
Democratic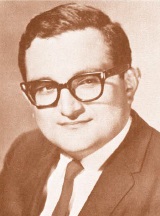 CA Blue Book (2000)
Candidate Biography:
Born: May 4, 1939 in Los Angeles, CA
Married: June
1964-1965: Clerk, District Court of Appeals
1965-1966: Deputy Attorney General, California
1971: Resigned from the State Assembly on July 29.
1976-1980: Majority Leader, California State Senate
1980-1994: President pro Tempore, California State Senate
1992: Resigned from the State Senate on July 2.*
1994: Primary Candidate for Treasurer (Lost; 44.5%)
1994: Recall Election for Senator David A. Roberti in SD-20 (Failed: 40.8%)
1998-2002: Member, California Integrated Waste Management Board
2001: Candidate for Los Angeles City Council (Lost; 17.5%)
In 1993, Roberti was the target of a recall led by William A. Dominguez, John R. Vernon, Hans Rusche, Dolores White, and Glenn C. Bailey. The recall qualified for the ballot but failed (40.75% in favor; 59.25% opposed).
In 1992, while serving as President pro Tem, Roberti resigned his Senate seat (SD-23) to assume another seat (SD-20) due to redistricting and the resignation of Alan Robbins. It was because of this move that Roberti was the first legislator to be effected by term limits.
Robert was 27 years old when elected to the Assembly.
Source: California Blue Book (1967), (1975)
Source: "Top spenders will vie to replace the late John Ferraro" by Howard Blume, LA Weekly (9/20/2001)