Ken Maddy
Republican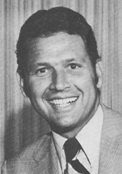 CA Blue Book
Candidate Biography:
Kenneth Leon Maddy
Born: May 22, 1934 in Santa Monica, CA
Married: Beverly Chinello, Norma Foster, [engaged to Marie Moretti (sister of Bob Moretti)
Children: Deanna Hose, Donald Paul Maddy, and Marilyn Geis
Military Service: USAF
Died: February 19, 2000 in Sacramento, CA
1978: Primary Candidate for Governor (Lost)
1979-1983: Minority Caucus Chair, California State Senate
1987-1995: Minority Leader, California State Senate
1999: Governor Gray Davis declared December 2nd as "Ken Maddy Day" [Honorary Day]
LEGISLATION: Author of the Dixon-Zenovich-Maddy California Arts Act of 1975, which established the California Arts Council.
PLACENAME: The portion of Route 99 constructed to freeway standards near the City of Livingston is officially named the "Kenneth L. Maddy" Freeway.
PLACENAME: The Kenneth L. Maddy Institute is located at CSU Fresno
PLACENAME: The Kenneth L. Maddy Equine Analytical Chemistry Laboratory is located at the UC Davis School of Veterinary Medicine
In 2015, the California Thoroughbred Breeders Association (CTBA) established the Kenneth L. Maddy Award to recognize a member of the California Legislature who has shown extraordinary dedication to California's Thoroughbred industry.
The coup to remove Maddy as Senate Minority Leader, which took place on August 24, 1995, has been cited by several longtime staffers as a major turning point in the increasingly partisan legislature of the 1990s-2000s.
Source: California Blue Book (1971), (1975)