George N. Zenovich
Democratic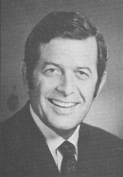 CA Blue Book
Candidate Biography:
Born: April 29, 1922 in Fresno, CA
Married: Vera Sarenac (in 1955)
Children: Ninon and Marina
Military Service: ARMY (WWII)
Died: September 25, 2013 in Fresno, CA
1966-1967: Majority Leader, California State Assembly
1968: Delegate, Democratic National Convention
1969-1970: Minority Caucus Chair, California State Assembly
1979: Resigned from the State Senate on March 23.
1979-2000: Associate Justice, 5th District Court of Appeal
2000: Proponent, Proposition 34 [Limits individual campaign contributions] (Passed: 60%)
Married Vera in the city of Belgrade, Yugoslavia.
LEGISLATION: Author of the Dixon-Zenovich-Maddy California Arts Act of 1975, which established the California Arts Council.
Source: California Blue Book (1963), (1967)
Source: "Primary May 22 in Special Senate Race"; Los Angeles Times (5/24/1979)
Source: A Disorderly House: The Brown-Unruh Years in Sacramento
by James R. Mills (Heyday Books; 1987)