Richard Alatorre
Democratic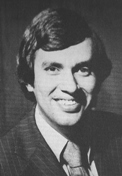 CA Blue Book
Candidate Biography:
Richard Jose Alatorre
Born: May 15, 1943 in Los Angeles, CA
Married: Stella, ????, Angie
Children: Derrick Joseph and Darrell Joseph
University: University of Southern California (MPA)
1968-1969: Ford Foundation Legislative Intern (Assembly Fellow)
Previous: Consultant, US Commission on Civil Rights
1960s: Aide to Assemblyman Walter J. Karabian
1967: Western Regional Director, NAACP
1968: Aide, State Senator Alfred H. Song
1973-1978: Chair, California Latino Legislative Caucus
1985: Resigned from the State Assembly on December 20.
1985-1998: Member, Los Angeles City Council
Legal Troubles: In April 2001, Alatorre "pleaded guilty to a federal criminal charge of felony tax evasion, admitting that he failed to report to the Internal Revenue Service nearly $42,000 in cash he received from individuals attempting to influence Alatorre in his official duties... Alatorre was sentenced to eight months of home detention with electronic monitoring – to be followed by three years of supervised release." (Source: US Department of Justice Release No. 01-062 by U.S. Attorney Alejandro N. Mayorkas of the Central District of California)
PLACENAME: Richard Alatorre Park is located in the City of Los Angeles.
NOTE: First Chairman of the Assembly Chicano Caucus
LEGISLATION: The Alatorre-Zenovich-Dunlap-Berman Agricultural Labor Relations Act of 1975 establishing the right to collective bargaining for farmworkers as well as the creation of the state's Agricultural Labor Relations Board.
Supreme Court Decision: In June 2021, the U.S. Supreme Court ruled that a provision in a law authored by Dunlap, SB 3x1 (1975), was unconstitutional. The law, which allowed labor unions to access agricultural employer's property to recruit new members, was found to violate the fifth and fourteenth amendments. (Cedar Point Nursery v. Hassid, 20-107)
His Federal Bureau of Prisons Register number was 59788-097 and he was released on 02-18-2001.
Source: California Blue Book (1975)
Source: California Assembly Handbook (1981)