John F. Dunlap
Democratic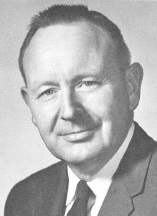 California Blue Book
Candidate Biography:
Born: September 11, 1922 in San Jose, CA
Married: Janet L. Jack (in 1946)
Children: Jill Bonner, David Anderson, Peter Trask, Jane Hamilton
Family: Great grandson of Nathan Coombs, Grandson of Frank L. Coombs, nephew of Nathan F. Coombs
Military Service: ARMY (WWII)
1950-1961: Member, Mt. George Union School District Board of Trustees
1964-1966: Chairman, Napa County Mental Health Advisory Board
1978-1984: Member, Worker's Compensation Appeals Board
On his website, Dunlap commented "The worst aspect of over-promising is that it results in public disillusionment when your solutions fall short of their mark and with disillusion comes an unwillingness to keep trying."
LEGISLATION: The Dunlap Act (1969) required that new coastal development dedicate trails granting public access to the ocean.
Source: California Blue Book (1967), (1971)