Nathan F. Coombs
Republican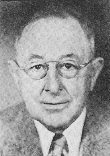 CA Blue Book
Candidate Biography:
Born: January 1, 1881 in Napa, CA
Family: Son of Frank L. Coombs, Grandson of Nathan Coombs, and uncle of John F. Dunlap.
Died: September 11, 1972 in Napa, CA
1925: California Commander, American Legion
Previous: Justice of the Peace, Napa County
Previous: District Attorney, Napa County
PLACENAME: Coombs Street in Napa is likely named for one or more members of this Coombs family.
Source: California Blue Book (1950)
Source: Social Security Death Index (website).