James R. Mills
Democratic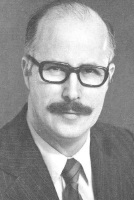 CA Blue Book
Candidate Biography:
Born: June 6, 1927 in San Diego, CA
Married: Joanna Rohrbough (m. 1959, div. 1980s)
Children: Beatrice, William "Bill", and Eleanor Ann
Military Service: ARMY (Korea)
Died: March 27, 2021 in Bonita, CA
1955-1960: Curator, San Diego Historical Society's Junipero Serra Museum
1971-1980: President pro Tempore, California State Senate
1980-1982: Chairman, Amtrak Board of Directors
1985-1994: Chair, Metropolitan Transit Development Board (MTDB)
LEGISLATION: In 1966, Mills introduced the bill that became the Proposition 1A, which amended the Constitution to create a full-time Legislature (with a pay increase from $6000 per year to $16000) and mandate annual general sessions. The bill also eliminated the pocket veto and significantly restructured the state Constitution. In

A Disorderly House

, Mills comments "I hope God will forgive me..."
LEGISLATION: Coauthor (with Frank Belotti) of AB 7 (Chapt. 1237, Stats of 1963) which established "Eureka" as the official state motto.
LEGISLATION: In 1971, Mills led the effort to amend the Senate Rules to abolish the Senate's "Fact-Finding Subcommittee on Un-American Activities".
PLACENAME: The headquarters of the Metropolitan Transit Development Board (MTDB) is named for Senator Mills, who authored the legislation creating the district.
LEGISLATIVE HISTORIAN: In addition to his other books (listed below), Senator Mills was the author of A Disorderly House: The Brown-Unruh Years in Sacramento which is easily of the best books about the California legislature of the 1960s.
PUBLISHED: His other four books are; Gospel According to Pontius Pilate,

San Diego: Where California Began

, "

Historical Landmarks of San Diego County

, and Poems of Inspiration from the Masters .
From his obituary: "In lieu of flowers, his family asked people to take a ride on a trolley, train or bike." (SD Union Tribute)
NOTABLE HISTORY: On August 28, 1972, Mills (as acting Governor while the Governor and Lt. Governor were out of state), became the first Senate President pro Tem to sign legislation into law when he approved his own bill (SB 36 by Mills) at a ceremony in Davis. On May 8, 1976, Mills again signed legislation into law when he approved AB 1834 by Wadie Deddeh.
Source: California Blue Book (1961), (1971)
Source: "James Mills, state legislator who championed public transit, historic preservation, dies at 93" by John Wilkens, San Diego Union Tribune (4/2/2021)