Milton Marks
Democratic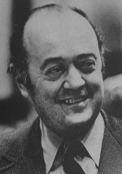 CA Blue Book (1975)
Candidate Biography:
Born: July 22, 1920 in San Francisco, CA
Married: Carolene Wachenheimer
Children: Milton III, David, and Caro
Family: Son of Milton Marks, Sr.
Military Service: ARMY (WWII)
Died: December 4, 1998 in San Francisco, CA
1952: Republican and Democratic (cross-filed) Primary Candidate for AD-21 (Lost)*
1966: Resigned from the State Assembly on October 25.
1966-1967: Justice, San Francisco Municipal Court
1986: While serving in the State Senate, changed party affiliation from Republican to Democratic on January 8th. He was selected as the Democratic Caucus Chairman the same day.
LEGISLATION: Author of the California Public Records Act (1968) with Assemblymen Bill Bagley, Harvey Johnson, Bob Beverly, James A. Hayes, Patrick D. McGee, David Negri. The PRA establishes that "public records are open to inspection at all times during the office hours of the state or local agency and every person has a right to inspect any public record."
LEGISLATION: Author of AB 1510 (Chapter 2038, Stats of 1961) which created the Commission on California State Government Organization and Economy with Assemblymen Jack Beaver, Gordon Winton, Nicholas Petris, and Glenn E. Coolidge. The Commission is today known as the Milton Marks "Little Hoover" Commission.
QUOTEABLE: "I think I ran for office because I wanted to do something on my own. I'd been called Milton Marks, Jr. for many years. I wanted to be Milton Marks." Source: California State Archives: State Government Oral History Program
TENURE: Marks tied with Vincent Thomas as the third longest serving member of the California Legislature (38 years total).
1952 NOTE: Marks narrowly lost the Republican primary to Caspar W. Weinberger.
Both Marks and his father Milton Marks Sr. served as Chair of the Assembly Constitutional Amendments Committee. Also, after being elected to the Assembly, Marks was assigned to the same seat in the Assembly Chambers that his father had sat in when he was in the Assembly.
PLACENAME: The Senator Milton Marks Branch Library of the San Francisco Public Library is named for Marks.
PLACENAME: The Milton Marks Conference Center is located at the State Office Building in San Francisco.
Milton Marks III was a member of the San Francisco City College Board (2001-2012).
A good article can be found at sunsetbeacon.com
Source: California Blue Book (1961), (1967)