Bill Bagley
Republican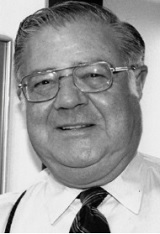 Courtesy Bill Bagley
Candidate Biography:
William Thompson Bagley
Born: June 29, 1928 in Woodacre, CA
Married: Doris L. Law, Diane Oldham (m. 1965)
Children: Lynn, Bill Jr., Walter, Shana and Tracy
1957: General Counsel, Young Republicans
1958: Vice President, California Republican Assembly
1967-1969: Member, California Judicial Council
1975-1978: Chairman, Commodity Futures Trading Commission
1981-1986: Member, California Public Utilities Commission
1983-1989: Member, California Transportation Commission
1989-2002: Member, University of California Board of Regents
2018: Governor Jerry Brown declared June 29th as "William T. Bagley Day" [Honorary Day]
LEGISLATION: Author of Bagley-Keene Open Meeting Act (1967), which required official meetings of state boards and commissions to follow rules similar to those of the Brown Act.
LEGISLATION: Author of the California Public Records Act (1968) with Assemblymen Harvey Johnson, Bob Beverly, James A. Hayes, Patrick D. McGee, David Negri (and Senator Milton Marks). The PRA establishes that "public records are open to inspection at all times during the office hours of the state or local agency and every person has a right to inspect any public record."
PLACENAME: Highway 101 from the Waldo Tunnel in Sausalito to I-580 in San Rafael is named the "William T. Bagley" Freeway . Named in 1987. - Source: cahighways.org
PUBLISHED: Bagley is the author of California's Golden Years: When Government Worked and Why, an autobiographical analysis of the Legislature during his 14 years of service.
Source: California Blue Book (1961)
Source: A Disorderly House: The Brown-Unruh Years in Sacramento
by James R. Mills (Heyday Books; 1987)
Source: "The Judicial Council of California: Membership" by the Judicial Council of California (accessed 5/30/2012)