Patrick D. McGee
Republican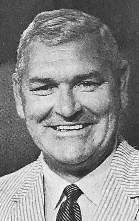 Candidate Biography:
Patrick D'Arcy McGee
Born: March 5, 1916 near Osceola, Ontario, Canada
Married: Eleanor Grace Cornehl (1944)
Child: Thomas D'Arcy
Military Service: Canadian Air Force (WWII), USN (WWII)
Died (in office): May 30, 1970 in San Francisco, CA
1948-1950: Research Attorney, Los Angeles District Court of Appeal
1957-1961: Member, Los Angeles City Council
1961: Candidate for Mayor of Los Angeles (Lost)
1957: Resigned from the State Assembly on August 21.
LEGISLATION: Author of the California Public Records Act (1968) with Assemblymen Bill Bagley, Harvey Johnson, Bob Beverly, James A. Hayes, David Negri (and Senator Milton Marks). The PRA establishes that "public records are open to inspection at all times during the office hours of the state or local agency and every person has a right to inspect any public record."
Died of: Cancer (spinal tumor)
INCOMPATIBLE OFFICES: In 1957, after being elected to the Los Angeles City Council, McGee decided to retain his Assembly seat (but not accept compensation) while also assuming the council seat. Attorney General Pat Brown determined even without compensation, the two offices were still incompatible according to the State Constitution.
Source: California Blue Book (1954), (1967)
Source: "Patrick McGee Dies", Los Angeles Times (5/31/1970), p. L5