Glenn E. Coolidge
Republican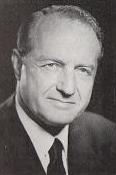 CA Blue Book
Candidate Biography:
Glenn Edward Coolidge
Born: December 2, 1902 in Cripple Creek, Colorado
Married: Margaret Welch
Children: Harry Calvin Coolidge, Margaret W. Burkett, John Morgan Wood, David Kelly Wood
Military Service: ARMY (WWII)
Died (in office): September 12, 1962
Previous: Assembly Attache, Assemblyman Harry Riley
Previous: President, Santa Cruz Realty Board
Previous: President, San Lorenzo Chamber of Commerce
1956: Delegate, Republican National Convention
1960: Delegate, Republican National Convention
PLACENAME: Glenn Coolidge Drive on the UC Santa Cruz campus is named for Coolidge. [Source: wikipedia.org]
LEGISLATION: Author of AB 1510 (Chapter 2038, Stats of 1961) which created the Commission on California State Government Organization and Economy with Assemblymen Milton Marks, Jack Beaver, Gordon Winton, and Nicholas Petris. The Commission is today known as the Milton Marks "Little Hoover" Commission.
Source: California Blue Book (1954), (1961)
Source: Social Security Death Index (website).