Nicholas C. Petris
Democratic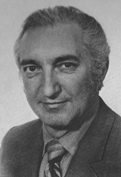 CA Blue Book (1975)
Candidate Biography:
Born: February 25, 1923 in Oakland, CA
Married: Anna Vlahos (in 1951)
Military Service: ARMY-OSS (WWII)
Died: March 20, 2013 in Oakland, CA
1957-1958: Member, Redevelopment Agency of Oakland
1960: Alternate Delegate, Democratic National Convention
2010s: Trustee, Junior Statesmen Foundation
LEGISLATION: Co-Author (with Senator Short and Assemblyman Lanterman) of the Lanterman-Petris-Short Act (SB 677 of 1967) which, among other effects, ended the involuntary commitment of the mentally ill.
LEGISLATION: The McAteer-Petris Act (1965) created the San Francisco Bay Conservation and Development Commission and regulates the filling of San Francisco Bay.
LEGISLATION: Author of AB 1510 (Chapter 2038, Stats of 1961) which created the Commission on California State Government Organization and Economy with Assemblymen Milton Marks, Jack Beaver, Gordon Winton, and Glenn E. Coolidge. The Commission is today known as the Milton Marks "Little Hoover" Commission.
PLACENAME: The Nicholas C. Petris Center on Health Care Markets & Consumer Welfare is located in Earl Warren Hall at UC Berkeley.
The Nicholas C. Petris Lecture (started in 2001) at San Francisco State University is named for Petris.
PLACENAME: The Senator Nicholas Petris Room (Room 3023) at Sacramento State University is named for Petris.
Source: California Blue Book (1961)
Source: California Legislature Handbook (1983)
Source: A Disorderly House: The Brown-Unruh Years in Sacramento
by James R. Mills (Heyday Books; 1987)