Frank D. Lanterman
Republican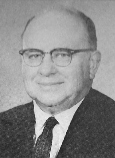 CA Blue Book (1967)
Candidate Biography:
Born: November 4, 1901 in Los Angeles, CA
University: University of Southern California
Died: April, 1981 in La Canada Flintridge, CA
LEGISLATION: Co-Author (with Senators Short and Petris) of the Lanterman-Petris-Short Act (SB 677 of 1967) which, among other effects, ended the involuntary commitment of the mentally ill.
LEGISLATION: Author of the Lanterman Developmental Disabilities Act (AB 846 in 1977), which expanded the protections that developmentally disabled persons enjoy.
PLACENAME: The segment between Route 134 and Route 210 is also named the "Frank D. Lanterman Freeway". The highway was named in 1978. - Source: cahighways.org
PLACENAME: The Frank D. Lanterman Regional Center (on Wilshire Boulevard in Los Angeles) is a private, non-profit corporation that serves over 7,000 children and adults with developmental disabilities, who have or are at risk for a developmental delay or disability, and who are at high-risk of parenting an infant with a disability.
PLACENAME: The Lanterman Developmental Center (on West Pomona Blvd in Pomona) is one of five Developmental Centers operated by the California Department of Developmental Services.
PLACENAME: F. D. Lanterman High School is located in Los Angeles (2328 Saint James Place in Los Angeles). There was also a Frank Lanterman High School (at 820 Towne Ave) that is now the Ninth Street Elementary.
Source: California Blue Book (1954), (1958), (1961), (1967), (1971)