Frank D. Lanterman
Republican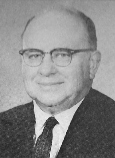 CA Blue Book (1967)
Candidate Biography:
Born: November 4, 1901 in Los Angeles, CA
University: University of Southern California
Died: April, 1981 in La Canada Flintridge, CA
LEGISLATION: Author of the Lanterman-Petris-Short Act (1971) which, among other effects, ended the involuntary commitment of the mentally ill.
LEGISLATION: Author of the Lanterman Developmental Disabilities Act (AB 846 in 1977), which expanded the protections that developmentally disabled persons enjoy.
LEGISLATION: Co-Author (with Senators Short and Petris) of SB 677 (1967), which required the CA Department of Mental Health "to plan, conduct and cause to be conducted scientific research into... the causes and cures of homosexuality, and into methods of identifying potential sex offenders."
PLACENAME: The segment between Route 134 and Route 210 is also named the "Frank D. Lanterman Freeway". The highway was named in 1978. - Source: cahighways.org
PLACENAME: The Frank D. Lanterman Regional Center (on Wilshire Boulevard in Los Angeles) is a private, non-profit corporation that serves over 7,000 children and adults with developmental disabilities, who have or are at risk for a developmental delay or disability, and who are at high-risk of parenting an infant with a disability.
PLACENAME: The Lanterman Developmental Center (on West Pomona Blvd in Pomona) is one of five Developmental Centers operated by the California Department of Developmental Services.
PLACENAME: F. D. Lanterman High School is located in Los Angeles (2328 Saint James Place in Los Angeles). There was also a Frank Lanterman High School (at 820 Towne Ave) that is now the Ninth Street Elementary.
Source: California Blue Book (1954), (1958), (1961), (1967), (1971)