Caspar W. Weinberger
Republican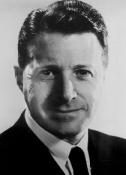 ssa.gov
Candidate Biography:
Born: August 18, 1917 in San Francisco, CA
Married: Jane Dalton (in 1942)
Children: Arlin Cerise Weinberger and Caspar Willard Weinberger, Jr.
Military Service: ARMY (WWII)
Died: March 28, 2006 in Bangor, Maine
1958: Primary Candidate for Attorney General
1960-1962: Vice Chairman, California Republican Party
1962-1964: Chairman, California Republican Party
1967-1968: Chairman, Commission on California State Government Organisation and Economy
1968-1970: State Director of Finance
1970: Chairman, Federal Trade Commission
1970-1972: Deputy Director, US Office of Management and Budget
1972-1973: Director, U.S. Office of Management and Budget
1973-1975: U.S. Secretary of Health, Education and Welfare
1981-1987: U.S. Secretary of Defense
1988-1990: Member, Foreign Intelligence Advisory Board
AWARD: Presidential Medal of Freedom (1987)
KNIGHTHOOD: Knight Grand Cross of the Order of the British Empire (UK) in 1988.
The conference room at the California Department of Finance office in the State Capitol was named the Weinberger Conference Room in December 2006. The offices were closed in 2021 for the demolition of the Capitol Annex.
LEGAL TROUBLES: On June 17, 1992, Weinberger was indicted on five federal felonies (including two counts of perjury and one count of obstruction) which were dismissed on December 11, 1992. He was pardoned for his involvement in the Iran-Contra Scandal on December 24, 1992.
Source: California Blue Book (1954)