Travis Allen
Republican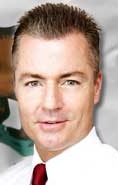 travisallen2012.com
Candidate Biography:
Travis E. Allen
Born: September 14, 1973 in San Diego, CA
Married: Arielle Bailey (m. 2016)
Child: Caroline
2016: Alternate Delegate, Republican National Convention
2018: Primary Candidate for Governor (Lost; 9.5%)
2019: Candidate for Chair of the California Republican Party (Lost; 30.7%)
CLOSE CONTEST: Allen narrowly won a spot in the 2012 General election when he defeated Joe Dovinh by 419 votes (0.6%) and Long Pham by 442 votes (0.7%).
LEGISLATION: Author of ACR 52 (2013) which recognizes beach bonfires as "important beach attraction," "a safe and inexpensive recreational activity" which results in "optimum economic and community activity."
RECORD SETTER: In 2015, Allen and Dana Rohrabacher were part of a group that set the Guinness World Record for Most People Riding a Surfboard. There were 66 total.
Source: Biography on campaign website [travisallen2012.com] (accessed 6/8/2012)