Tony Thurmond
Democratic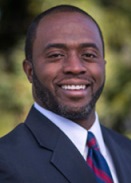 | Date | Party | Office | Votes | Result |
| --- | --- | --- | --- | --- |
| 11-04-2014 | Democratic | AD-15 | 66661 | Win |
| 11-08-2016 | Democratic | AD-15 | 189530 | Win |
| 11-06-2018 | Nonpartisan | Superintendent of Public Instruction | 5385912 | Win |
| 11-08-2022 | Nonpartisan | Superintendent of Public Instruction | 5681315 | Win |
Candidate Biography:
Tony K. Thurmond
Born: August 21, 1968 in Fort Ord, CA
Married: Kristin (m. 1999)
Children: Jayden and Maya
2004: Candidate for Richmond City Council (Lost; 6.0%)
2005-2008: Member, Richmond City Council
2008: Primary Candidate for AD-14 (Lost; 24.9%)
2009: Early Primary Candidate for Potential SD-07 Vacancy (Did not occur)
2008-2012: Member, West Contra County School Board
2016: Delegate, Democratic National Convention
2020: Proponent, Proposition 15 [Property Taxes Split-roll for Commercial] (Failed;48%)
CLOSE CONTEST: During the 2018 General Election, it wasn't until November 12th, six days after the election, that Thurmond first took the lead (by 3,889 votes).
NOTABLE HISTORY: In the 2016 General Election, Thurmond received 189,530 votes, setting the all-time record for the State Assemblymember to receive the highest number of votes in an election. The record had previously been held by Ted Gaines, who was elected with 166,736 votes in 2008.
According to an posting on San Leandro Talk, Thurmond "was born in California to a Panamanian mom and an army dad who left for Vietnam and never came back."
What's in a name? In the 1980s and 1990s, he identified himself as Tony Thurmond-Krajewski. In the 2004 election, he ran for Richmond City Council as Tony K. Thurmond.
Source: California Assembly Handbook (2015)