Steven S. Choi
Republican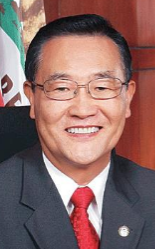 Candidate Biography:
Steven Seokho Choi
Born: January 15, 1944 in Seoul, South Korea
Married: Janie
Children: Daniel and Michelle
1998-2004: Member, Irvine Unified School District Board
2004-2012: Member, Irvine City Council
2010: Primary Candidate for AD-70 (Lost; 30.1%)
2012-2016: Mayor, City of Irvine
CLOSE CONTEST: Choi narrowly won a spot in the 2016 General election when he defeated Harry Sidhu by 154 votes (0.1%). In fact, it wasn't until June 13th, seven days after the Primary, that Choi pulled ahead of Sidhu.
OLDEST FRESHMAN: Choi was 72.9 years old on the day of his inauguration, making him the oldest freshman in 72 years (Assemblyman Albert I. Stewart was sworn in at age 73.5 in 1945).
An incumbent who lost reelection to a member of another party (in 2022).