Blanca Rubio
Democratic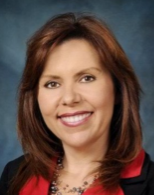 blancarubio.com
Candidate Biography:
Blanca Estela Rubio
Born: September 15, 1969 in Juarez, Mexico
Married: John Lopez
Children: Two
Family: Sister of Susan Rubio
1997-2003: Member, Valley County Water District
2003-2016: Member, Baldwin Park Unified School District Board
Blanca's sister Susan Rubio was married to Assemblyman Roger Hernandez from 2013 until 2016.
Rubio's sister Sylvia Rubio was a primary candidate for AD-57 in 2020. She came in third with 17.7%.