Jessica Martinez
Republican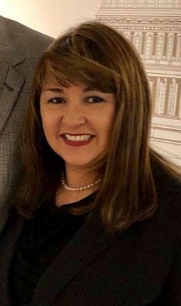 martinezforassembly.com
Candidate Biography:
Delfin Jessica Contreras
Born: January 1962
Married: Felix Cruz Olivarez (m. 1983), Paul James Martinez (m. 1997)
Child: Alexandra Nicole Olivarez
2020-Present: Member, Whittier City Council
Attended the January 6, 2021 "Stop the Steal" rally in Washington DC, but did not enter the Capitol. On January 12th, the Whittier City Council considered (but ultimately did not) a resolution to censure Martinez. The measure failed 2-2 (with one absence or abstention).