Katie Porter
Democratic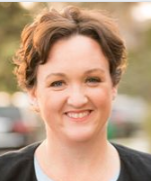 katieporter.com
Candidate Biography:
Born: January 3, 1974 in Fort Dodge, Iowa
Children: Three
2011-2019: Professor, UC Irvine
2012-2014: Staff, California Department of Justice (National Mortgage Settlement)
2024: Early Primary Candidate for US Senate (PENDING)
CLOSE CONTEST: The weekend following the 2018 General Election, Mimi Walters lead Porter by 2009 votes. The following day, Walters' lead dropped to 1011 votes and one week after the election, Porter took a 261 vote lead over Walters. By November 24th, Walters trailed by 10,313 votes.
PUBLISHED: Author of

Modern Consumer Law

(2016), Co-author of

The Law of Debtors and Creditors

(2014), and Editor of

Broke: How Debt Bankrupts the Middle Class

(2012).