Georgette Gomez
Democratic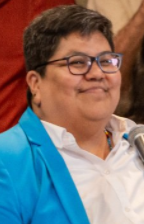 georgettegomez.org
Candidate Biography:
Born: November 3, 1975 in San Diego, CA
2016-2020: Member, San Diego City Council
Differing Results: The 2022 AD-80 Special Election and the 2022 Primary Election were both held on June 7, 2022. In the 2022 Special Election for AD-80, Gomez received 45.7% of the vote, trailing frontrunner David Alvarez (54.3%) who was elected. Meanwhile, in the 2022 Primary (held the same day), Gomez finished in first place (36.4%) ahead of Alvarez (31.0%)
On September 17, 2022, Gomez announced that she was ending her campaign Assembly for the 2022 election and withdrawing from the contest (although she would still appear on the ballot).