Wilson Riles
Democratic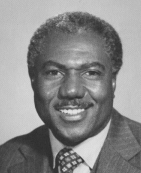 CA Blue Book (1975)
| Date | Party | Office | Votes | Result |
| --- | --- | --- | --- | --- |
| 11-03-1970 | Nonpartisan | Superintendent of Public Instruction | 3254365 | Win |
| 06-04-1974 | Nonpartisan | Superintendent of Public Instruction | 2997884 | Win |
| 06-06-1978 | Nonpartisan | Superintendent of Public Instruction | 2818913 | Win |
| 11-02-1982 | Nonpartisan | Superintendent of Public Instruction | 3114964 | Loss |
Candidate Biography:
Born: June 27, 1917 near Alexandria, Louisiana
Married: Mary Louise Phillips
Children: Includes Wilson Riles Jr.*
Died: April 1, 1999 in Sacramento, CA
1958-1965: Educational Consultant, California Department of Education
1965-1969: Associate State Superintendent, Compensatory Education Program
1969-1971: Deputy State Superintendent of Public Instruction
Riles was the first African-American Superintendent of Public Instruction in California. He also was the first African-American constitutional officer in California's history.
Wilson Riles, Jr. was the Northern California Coordinator for the Shirley Chisholm for President Campaign in 1972, a member of the Oakland City Council (1979-1992) and candidate for Mayor of Oakland (2002).
PLACENAME: Wilson C. Riles Middle School is located in Roseville. There was a Wilson C. Riles Elementary in Los Angeles (which closed in 1995) and a Wilson Riles Middle School in Los Angeles (which closed in 1989).