Tom Umberg
Democratic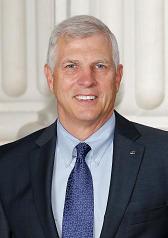 umbergzipser.com
Candidate Biography:
Born: September 25, 1955 in Cincinnati, Ohio
Married: Brigadier General Robin Umberg (US Army Reserve)
Children: Erin, Brett, and Tommy
Military Service: ARMY (War on Terror)
1987-1990: Assistant U.S. Attorney, District Unknown
1996: California Chair, Bill Clinton/Al Gore Reelection Campaign
1997-2000: Deputy Director, White House Office of National Drug Control Policy
2002: Primary Candidate for Insurance Commissioner (Lost; 28%)
2006: Primary Candidate for SD-34 (Lost; 40.9%)
2007: Candidate for Orange County Board of Supervisors (Lost)
2008-2012: Member, California High Speed Rail Authority
Tom is a colonel in the U.S. Army Reserve. He served with the 2nd Infantry Division in South Korea and with NATO forces in Italy, and as a paratrooper with the US Army Special Operations Command, US Army Special Warfare Center and the XVIIIth Airborne Corp. During his military career, he tried over 50 felony cases as a JAG officer in Korea, Italy, and the United States. Tom was recalled to active duty (from August to December 2004) and deployed as a war crimes prosecutor to Guantanamo Bay, Cuba. He prosecuted detainees housed at Camp X-Ray, and in 2009 as the Chief, Anti-Corruption, in Afghanistan.
As of 2013, General Robin Umberg currently serves as Deputy Secretary for Veterans Homes in the California Department of Veterans Affairs.
Source: California Legislature Handbook (1994)