Chuck Quackenbush
Republican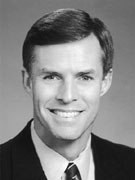 vote98.ss.ca.gov
Candidate Biography:
Charles W. Quackenbush
Born: April 20, 1954 in Tacoma, Washington
Married: Chris Quackenbush (in 1978)
Children: Carrey, Charles Patrick
Military Service: ARMY
1993: Early Special Election Candidate for SD-11 (Withdrew)
2000: Resigned as Insurance Commissioner on July 10.
2005-Present: Deputy Sheriff, Lee County [Florida]
In 2000, Quackenbush was the target of an attempted recall led by Sandra J. Webb and 108 others. The recall failed to qualify for the ballot.
Source: California Legislature Handbook (1989), (1994)
Source: "Complete List of Recall Attempts" by the California Secretary of State (Accessed 2/14/2011)
Source: "CANDIDATES FOR STATE INSURANCE COMMISSIONER", Sacramento Bee (5/24/1998, Metro P. 4)