Elihu M. Harris
Democratic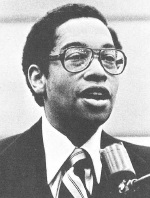 peralta.cc.ca.us
Candidate Biography:
Elihu Mason Harris
Born: August 15, 1947 in Los Angeles, CA
Married: Dr. Shiela Wells Harris
1981-1989: Member, California Judicial Council
1991-1999: Mayor, City of Oakland
2000: Early Primary Candidate for AD-16 (Withdrew)
2003-2010: Chancellor, Peralta Community College District
FATHER OF THE CODE: Harris authored AB 621 (1981), which established the California Public Contract Code.
PLACENAME: The Elihu M. Harris Building (1515 Clay Street in Oakland) was dedicated June 25, 1998.
Harris was the first major party politician to lose a state legislative race to a Green Party candidate in the United States, when he lost the 1999 Special Election to Audie Bock by 327 votes (1.1%). Since 1999, two other Greens have been elected to state legislatures: John Eder (Maine House of Representatives, 2003-2007) and Richard Carroll (Arkansas House of Representatives, 2008).
Source: California Assembly Handbook (1979)
Source: "The Judicial Council of California: Membership" by the Judicial Council of California (accessed 5/30/2012)