Tom Campbell
Republican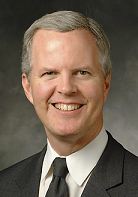 berkeley.edu
Candidate Biography:
Born: August 14, 1952 in Chicago, Illinois
Married: Suzanne Campbell
Previous: Executive Assistant to the Deputy Attorney General, Department of Justice
1977-1978: Law Clerk, U.S. Supreme Court Justice Byron R. White
1980-1981: White House Fellow, Office of the Chief of Staff
1981-1983: Director, Bureau of Competition, Federal Trade Commission
1992: Primary Candidate for US Senate (Lost)
1995: Resigned from the State Senate on December 15.
2002-2008: Dean, Haas School of Business
2003-Present: Chairman, World Affairs Council of Northern California
2004-2005: Director, California Department of Finance
2009-2011: Presidential Fellow, Chapman School of Law
2010: Early Primary Candidate for Governor (Withdrew)
2010: Primary Candidate for US Senator (Lost; 21.8%)
2011-2016: Dean, Chapman School of Law
2011-201?: Member, National Popular Vote Board of Directors
2020: Opponent, Proposition 16 [Affirmative Action Restoration] (Failed; 42.8%)
Party Time: In September 2019, Campbell announced that he was launching a new political party, called the Common Sense Party. As of February 2023, Campbell is the official contact for the Common Sense Party of California (a political party attempting to qualify for the ballot). It has 24,454 registered voters as of 2023 (which is 97.6% of the total of all voters registered with a political party attempting to qualify.