Roy Ashburn
Republican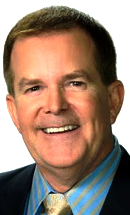 CA State Assembly
Candidate Biography:
Born: March 21, 1954 in Long Beach, CA
Married: Diane (div. 2003)
Children: Shelley, Shannon, Stacy and Suzy
1972-1977: Field Representative, Supervisor LeRoy Jackson
1979-1983: District Representative, Congressman Bill Thomas
1984-1996: Member, Kern County Board of Supervisors
1988: Chair, Kern County for George Bush Presidential Campaign
2009-Present: Member, Western Interstate Commission on Higher Education
2010: Early Primary Candidate for SBOE-02 (Withdrew)
2010: Early Primary Candidate for CD-20 (Did not run)
2010: Proponent, Proposition 13 [Property tax: seismic retrofitting] (Won; 84.5%)
2010-2011: Assistant to the Governor, Office of Planning and Research
2011-2015: Member, California Unemployment Insurance Appeals Board
2012: Candidate for Kern County Board of Supervisors (Lost; 40%)
Ashburn was the first self-identified homosexual Republican to serve in the California legislature.
LEGISLATION: Author of Proposition 13 (2010) [Property tax: new construction exclusion: seismic retrofitting]
NOTABLE NO VOTE (Forced Labor Reparations): Ashburn was the sole legislator to vote against AB 1728 (2000), which exempts from income tax any reparations received for forced labor performed during World War II.
LEGISLATION: Author of SB 906 (2005) which designated Calico, in San Bernardino County, as the official state Silver Rush Ghost Town.
In 2009, Ashburn was the target of two attempted recalls led by Michael Moore and more than 50 others. The recalls failed to qualify for the ballot.
Source: California Blue Book (2000)
Source: "Notorious GOP Taxer Roy Ashburn Rewarded With Lucrative Commission Spot" by Jon Fleischman, FlashReport (12/29/2010)
Source: "Here's what you won't see on Roy Ashburn's state biography" by Jim Sanders, CapitolAlert Blog/Sacramento Bee, (2/14/2011)
Source: "Complete List of Recall Attempts" by the California Secretary of State (Accessed 2/14/2011)