Howard K. Cramer
Republican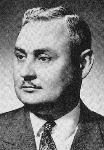 CA Blue Book
| Date | Party | Office | Votes | Result |
| --- | --- | --- | --- | --- |
| 11-05-1946 | Republican | AD-80 | 33798 | Win |
| 11-02-1948 | Republican | AD-80 | 34858 | Win |
Candidate Biography:
Born: April 9, 1903 in Wilkinsburg, Pennsylvania
Married: Elva I. DeGraw (in 1936)
Military Service: USMC, USN (WWII), ARMY
Died: March 1, 1986 in Pima, Arizona
1949: Resigned from the State Assembly on May 28.
INTEGRITY: Cramer resigned from the Assembly "to avoid going bankrupt 'or selling my integrity". From his resignation; "I regret that circumstances make it impossible for me to continue to serve the people of my district and State in the Legislature, but the salary which I receive as a legislator is insufficient to warrant my maintaining a home in Sacramento..."
Source: California Blue Book (1950)
Source: "Assemblyman Resigns, Due to Pay Scale" Los Angeles Times, 5/29/1949 (p. A6)
Source: Social Security Death Index (website).