Arthur W. Way
Republican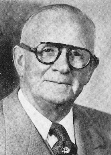 CA Blue Book (1950)
Candidate Biography:
Arthur William Way
Born: March 5, 1879 in Eureka, CA
Married: Blanche Johnston (m. 1908, d. 194?), Dorothy Ann Flower (in 1950)
Child: Dorothy Helen Way
Died: February 1964 in California
Previous: Justice, Eureka Police Court
1925-1929: Mayor, City of Eureka
1949: Resigned from the State Assembly on November 18.
1956: Primary Candidate for SD-03 (Lost)
PLACENAME: Arthur W. Way County Memorial Park is located in Humboldt County.
Incumbent who was defeated by a member of their own party (in 1956)
Source: California Blue Book (1950)
Source: Social Security Death Index (website).