Dwight D. Eisenhower
Republican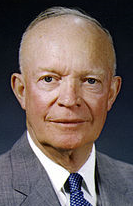 Library of Congress
| Date | Party | Office | Votes | Result |
| --- | --- | --- | --- | --- |
| 11-04-1952 | Republican | President | 3035587 | Win |
| 11-06-1956 | Republican | President | 3027668 | Win |
Candidate Biography:
Dwight David Eisenhower
Name at birth was: David Dwight Eisenhower
Born: October 14, 1890 in Denison, Texas
Married: Mamie Geneva Doud (in 1916)
Children: Doud Dwight Eisenhower and John Sheldon David Doud Eisenhower
Family: Grandfather of David Eisenhower (married Richard M. Nixon's daughter Julie)
Military Service: ARMY (WWII)
Died: March 28, 1969 in Washington, DC
1933-1935: Chief Military Aide, General Douglas MacArthur, Army Chief of Staff
1940s: Supreme Commander, Allied Forces in Europe
1945-1948: Chief of Staff, United States Army
1948-1950: President of Columbia University
1950-1952: Supreme Commander of NATO (first to hold that rank)
1952-1953: President of Columbia University
1953-1961: President of the United States
1953: Appointed Governor Earl Warren as Chief Justice of the U.S. Supreme Court
PLACENAME: In California alone, there are 2 Parks, 4 Elementary Schools (Corona, Garden Grove, Indio, and Santa Clara), 1 High School (Rialto) and 1 Medical Center named for President Eisenhower.
PLACENAME: Because of his strong support for the development of an interstate highway system to aid national defense, the national network of highways has been designatued the Dwight D. Eisenhower National System of Interstate and Defense Highways.
High Rank: General of the Army (United States Army)
A statue of Eisenhower (donated by Kansas) sits in the National Statuary Hall Collection.
Eisenhower was the first President to be term-limited by the 22nd Amendment.
David Eisenhower (grandson of the President) is who Camp David is named for.
US Currency: Dwight D. Eisenhower appeared on a "Presidential $1 Coin" that was issued in 2015. Eisenhower also appeared on the Eisenhower dollar (1971-1978).