John C. Begovich
Democratic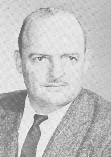 CA Blue Book (1963)
| Date | Party | Office | Votes | Result |
| --- | --- | --- | --- | --- |
| 11-08-1960 | Democratic | SD-09 | 9364 | Win |
| 11-03-1964 | Democratic | SD-09 | 15489 | Win |
Candidate Biography:
John Chris Begovich
Born: January 17, 1916 in Jackson Gate, CA
Married: Lorraine Love
Child: John C. Begovich Jr.
Military Service: ARMY (WWII)
Died: September 12, 2000 in Amador, CA
1967-1970: U.S. Marshal for California's eastern judicial district
1977-1996: Member, Amador County Board of Supervisors
World War II: "Fought in North Africa, Sicily, Italy and France (3rd ID) and was awarded a Silver Star, a Bronze Star and the French Croix de Guerre for bravery under fire. He won a battlefield commission and received three Purple Hearts for combat wounds." [Source: The Sacramento Bee]
PLACENAME: State Route 49 from the southern city limit of the City of Jackson to the intersection of Route 88 is officially named the "John C. Begovich Memorial Highway". - Source: cahighways.org
Begovich was appointed U.S. Marshall on July 5, 1967, not in 1966 (as many sources claim).
Source: California Blue Book (1961)