Omer L. Rains
Democratic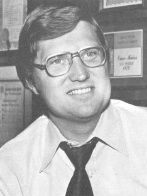 senorains.com
Candidate Biography:
Omer Leonard Rains
Born: September 25, 1941 in Barnett, Missouri
Married: Diana Waldie Rains (m. 1977)
Children: Kelly, Mark, Jessica
1966-1969: Attorney, Ventura County District Attorney's Office
1981-1983: Member, California Judicial Council
1982: Primary Candidate for Attorney General (Lost; 37.3%)
2000s: Chairman of the Board, Rural Education and Development (READ) Global
Name ID: Raines petitioned the Placer County Superior Court in August 1987 to legally change his first name from "Omer" to "Senator Omer". "He withdrew the request after the Senate Rules Committee filed a formal objection... arguing that the change would confuse the public about his status, that it would allow him to avoid election codes intended to prevent voter deception, and that ""senator'' is a title, not a name." [Sac Bee article]
Capitol History: Rains married Diana Susan Waldie on the Floor of the Senate Chambers on April 4, 1977. At that time, the Senate Chambers were temporarily located in a structure just outside the East End of the Capitol during the 1975-1985 Restoration.
Source: California Blue Book (1975)
Source: "Ex-Lawmaker Mentally Competent to Settle Dispute, Court Says" by Kenneth Ofgang, Metropolitan News-Enterprise (11/9/2005)
Source: "Senate rains on Rains' name switch" by Rick Kushman, Sacramento Bee (9/19/1987)
Source: "The Judicial Council of California: Membership" by the Judicial Council of California (accessed 5/30/2012)