Gerald Ford
Republican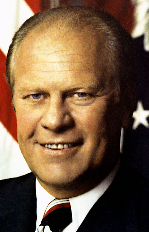 | Date | Party | Office | Votes | Result |
| --- | --- | --- | --- | --- |
| 08-09-1974 | Republican | President | 0 | Win |
| 11-02-1976 | Republican | President | 3882244 | Win |
Candidate Biography:
Born: July 14, 1913 in Omaha, Nebraska
Spouse: Betty Warren
Children: Michael, John*, Steven, and Susan
Military Service: USN (WWII)
Died: December 26, 2006 in Rancho Mirage, CA
1949-1973: Member of Congress (Michigan)
1963-1964: Member, President's Commission on the Assassination of President Kennedy (better known as the "Warren Commission")
1965-1973: House Minority Leader
1973-1974: Vice President of the United States
1974-1977: President of the United States
Eagle Scout
AWARD: Presidential Medal of Freedom (1999)
Betty Ford was awarded the Presidential Medal of Freedom in 1991.
AWARD: Profile in Courage Award from the John F. Kennedy Library Foundation (2001)
John "Jack" Gardner Ford was an early candidate for State Controller in 1982 (but withdrew).
Gerald Ford Elementary is located in Indian Wells, CA.
US Currency: Gerald Ford appeared on a "Presidential $1 Coin" that will be issued in 2016.