Paul V. Horcher
Republican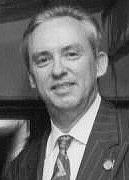 paulhorcher.com
Candidate Biography:
Paul Virgil Horcher
Born: August 31, 1951 in Texas
Married: Van Le (in 1982)
Children: Kimberley Vanessa and Pauline Vonne
1982-1989: Member, Diamond Bar Municipal Advisory Council
1989: Co-founder, City of Diamond Bar
1989-1990: Member, Diamond Bar City Council Member
1995: Recalled from the State Assembly on May 16th
1996: San Francisco Mayor's Liaison to the San Francisco Board of Supervisors
1996-1997: "An executive", San Francisco Department of Parking and Traffic
1997-2001: Director, San Francisco Solid Waste Management Program
2001-2004: Deputy Director, San Francisco Department of Environment
On December 5, 1995, Horcher changed his party affiliation from Republican to Independent.
A staffer with 30 years of Capitol experience remembered; "The day after the recall, I came to work before 9 am and there was virtually no evidence that Paul Horcher had ever even been in the Capitol. His name was removed from every roster - it was as if he evaporated."
In 1994, Horcher was the target of a recall led by Timothy J. Vrieling, and 59 others. The recall qualified for the ballot and succeeded (61.63% in favor; 38.37% opposed).
Source: California Assembly Handbook (1996)