Liz Figueroa
Democratic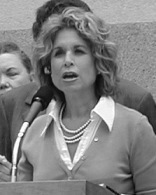 Candidate Biography:
Born: February 9, 1951 in San Francisco, CA
Married: Robert Lewis Bloom (m. 1971)
Children: AnaLisa Bloom and Aaron Bloom
1969-197?: San Mateo City Human Relations Commission
1985-198?: Member, Union Sanitary District Board of Directors
1988-1994: Chair, Alameda County Democratic Party
198?: Woman of the Year (18th Assembly District) [selected by Delaine Eastin]
2006: Primary Candidate for Lieutenant Governor (Lost; 18%)
2007-2010: Member, California Unemployment Insurance Appeals Board
2007-2010: Member, Public Citizen Foundation Board of Directors
2010: Candidate for Alamenda County Board of Supervisors (Lost; 24.1%)
2011-Present: Vice President of Public Affairs, Planned Parenthood Mar Monte
LEGISLATION: Author of SB 834 (2005), which created the Office of the State Chief Information Officer (OCIO) [Chapter 533, Stats of 2006].
LEGISLATION: Author of AB 2457 (1996) prohibiting the state from entering into contracts to purchase any foreign product such as equipment, material or supplies made by slave labor.
Source: California Blue Book (2000)