Kevin Murray
Democratic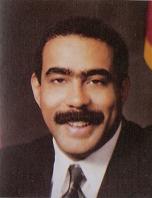 CA Blue Book 2000
Candidate Biography:
Born: March 12, 1960 in Los Angeles, CA
Married: Janice (Commissioner, Workers Compensation Appeals Board)
Children: Jordan and Matthew
Family: Son of Willard Murray
2001: Special Election Primary Candidate for 32 (Lost)
2010: Early Candidate for Treasurer (Withdrew)
Murray is a member of America MENSA.
Murray and his father served in the same legislative house at the same time, the first father-son pair in California history.
In 1999, Murray was the target of an attempted recall led by Doris Hill and 99 others. The recall failed to qualify for the ballot.
Source: California Blue Book (2000)
Source: "Complete List of Recall Attempts" by the California Secretary of State (Accessed 2/14/2011)