Howard J. Kaloogian
Republican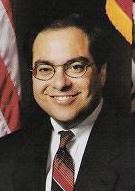 CA Blue Book 2000
Candidate Biography:
Born: December 30, 1959 in Detroit, Michigan
Married: ??? (div.)
1980: Delegate [Michigan], Republican National Convention
~1984: Intern, [Michigan] State Senate GOP Leader John Engler
2003: Chairman, Recall Gray Davis Committee
2004: Primary Candidate for US Senate (Lost; 11.2%)
2005-Present: Founder, Move America Forward
2005: Special Election Primary Candidate for CD-50 (Lost)
2006: Primary Candidate for CD-50 (Lost; 4.9%)
UNACKNOWLEDGED API: This elected official was excluded from the "History of Asian Americans in the California Legislature" by the California Asian Pacific Islander Legislative Caucus, although this person is Armenian-American and Armenia is in Asia (Source, accessed 3/2/2013).
NOTABLE NO VOTE (Expanded State Pension Benefits): Kaloogian was one of 6 State Assemblymembers who voted against S8 400 (1999) by Deborah Ortiz, which created new Public Employee Retirement System pension formula allowing a retirement benefit factor of 2% at age 55 increasing to 2.5% at age 63 and above.
Source: California Blue Book (2000)